Psychologist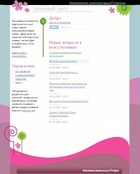 Life is a way, whether you are an adult or a kid. Each way has its crossroads—the moments when a teenager have to make a decision. And a kid's future depends on it.
The GreenLight project is made so that a teen's choise was deliberate and right. And if you are a teenager staying on one of the crossroads, we will do everything to show you the solution. You should know the road is open and the whole world is for you. Here you can ask any question about relationships with parents or friends, about your health, about your fears and disturbance. We do not have closed topics.
Our specialists are a pedagog-psychologist, a social pedagog, a pediatrician. They are ready to answer your questions, to offer the solutions of your problems, to find the exit from a crisis situation.